St. Jose Maria Escriva - Prayer
If you are new to this blog... Welcome! Please take some time to read the previous posts (see left side navigation bar), especially

The Power of Prayer.

We invite you to visit this blog daily and

Say a new Prayer everyday

. We invite you to

Share your favorite prayer

and to send in your

Prayer Requests

or petitions. Encourage your families and friends to do the same. Feel free to leave your comments on each post. Or you can read the instructions on

How to Share or Request for a Prayer in this blog.

.

----------------------------------------------------------------------------------------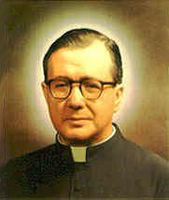 Saint Josemaria Escriva
Prayer

O God, through the mediation of Mary our Mother,
You granted Your priest Saint Josemaria countless graces,
choosing him as a most faithful instrument to found Opus Dei,
a way of sanctification in daily work and in the
fulfillment of the Christian's ordinary duties.
Grant that I too may learn to turn all
the circumstances and events of my life
into occasions of loving you
and serving the Church, the Pope and all the souls
lighting up the pathways of this earth, with faith and love.
Deign to grant me, through the intercession of
Saint Josemaria, the favor of...(make your request).
Our Father, Hail Mary, Glory be to the Father.
"Your daily encounter with Christ takes place right where you work,
where your aspirations and your affections are.
There we must seek sanctity,
in the midst of the most material things of the earth,
serving God and all humankind.
Heaven and earth seem to merge, my daughters and sons, on the horizon.
But where they really meet is in your heart,
when you strive for holiness in your everyday lives."
- St. Josemaria Escriva, from the homily Passionately Loving the World, October 8, 1967