Sacred Heart of Jesus and Immaculate Heart of Mary
What a wonderful weekend!
We start with First Friday, honoring the Sacred Heart, and then comes the Feast of Immaculate Heart of Mary this Saturday.
The prayer to the Twin Hearts of Jesus and Mary (featured in this post) is a powerful prayer.
Our Parents shared this prayer and image with us when we got married, and we'd like to share them with you.
We invite you to make this prayer part of your morning 'ritual.' It's a great way to start your day...you'll soon find out why.
Sacred Heart of Jesus and Immaculate Heart of Mary,
please protect us.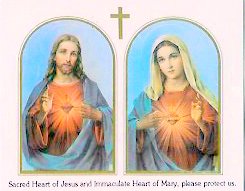 Sacred Heart of Jesus and Immaculate Heart of Mary,
I concecrate my entire self
to the Most Holy Love of You Two Hearts.
I wish to make reparation for all the sins of the world,
including my own.
I offer these things for the love of the hearts of Jesus and Mary.

I will keep my mind on beauty
and turn my thoughts from evil things.
I will hold my temper and bear the mistakes of others
with love and a forgiving heart.
I will admit when I am wrong and ask others to forgive me.
I will not show off, but remain humble.
I will offer up my sufferings,
sickness and hurts.
I will seek God's Will, not my own.
I will show appreciation for the kindness,
the blessings that I receive, and thank God for all things.
I will do everything in my life for the love of God.
And I will love others, as God has loved me.

O Sacred Heart of Jesus, through the intercession
of the Immaculate Heart of Mary,
receive the offering and consecration I now make of myself to You.
Keep me faithful unto death.
Bring me one day to the happy home in heaven.
I desire to live forever
with God the Father and Most Holy Spirit
and You my Jesus,
together with Your Most Immaculate Mother.
Amen.



May you have a great weekend with your families.

God bless you all...Always.

Lito & Ann