Remembering Pope John Paul II
If you are new to this blog, please take some time to read the previous posts (see left side navigation bar), especially

The Power of Prayer.

We invite you to visit this blog daily and

Say a new Prayer everyday

. We invite you to

Share your favorite prayer

and to send in your

Prayer Requests

or petitions. Encourage your families and friends to do the same. For instructions on

How to Share or Request for a Prayer, please click here

.

----------------------------------------------------------------------------------------

"Be not afraid!
Open up, swing wide the gates to Christ."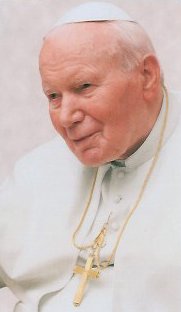 Pope John Paul II

1920-2005

Father, in Your wise and loving care,
You made your servant
John Paul II, Pope and teacher
of all your Church.
He did the work of Christ on earth.

May Your Son welcome him
to eternal glory,
where He lives and reigns with
You and the Holy Spirit,
One God, for ever and ever.
Amen
Please join us in praying for Pope John Paul II.

We rejoice in the fact that Pope Benedict XVI has launched the process to beatify Pope John Paul II and fast track the procedure to his sainthood. Read the full story here.
Pope launches swift sainthood process for John Paul II.

Indeed, millions are clamoring for Pope John Paul II's sainthood. There are already numerous accounts of the miracles he performed even while still alive. More and more people are praying to him...asking for everyday miracles -- even for exams! Read this interesting article:
Students turn to late Pope for exam help.
Learn more about the life of Pope John Paul II in this special CNN feature.
Biography of Pope John Paul II.