Prayer to St. Anne - Mother of Mary and the Grandmother of Jesus
If you are new to this blog... Welcome! Please take some time to read the previous posts (see left side navigation bar), especially

The Power of Prayer.

We invite you to visit this blog daily and

Say a new Prayer everyday

. We invite you to

Share your favorite prayer

and to send in your

Prayer Requests

or petitions. Encourage your families and friends to do the same. Feel free to leave your comments on each post. Or you can read the instructions on

How to Share or Request for a Prayer in this blog.

.

----------------------------------------------------------------------------------------
St. Anne, Bless My Family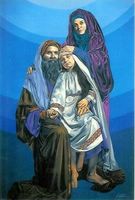 Picture of Anne, Joachim, and Mary


My family is the heart of my life.
It is my little Church.
Saint Anne, guard the members of my family
against all physical and spiritual danger.

You lived in the presence of your husband, St. Joachim
and your little daughter, Mary.
Later, you welcomed your son-in-law, Saint Joseph,
and above all your beloved Grandson Jesus, our Savior.

May your family inspire our families.
May we remain united in a deep mutual love.
If my family is broken by separation or divorce,
remain for us the Saint of tenderness
and lead us to God.

Saint Anne, you were a spouse, a mother,
and a grandmother; bless all the members
of my family. Keep us faithful to the Lord.

May we remain attentive to the needs of
other families. Protect all families.
Amen.
May you all enjoy this summer with your family. Keep safe.
May God bless you and your entire family always.