Prayer To The Holy Spirit
If you are new to this blog... Welcome! Please take some time to read the previous posts (see left side navigation bar), especially

The Power of Prayer.

We invite you to visit this blog daily and

Say a new Prayer everyday

. We invite you to

Share your favorite prayer

and to send in your

Prayer Requests

or petitions. Encourage your families and friends to do the same. Feel free to leave your comments on each post. Or you can read the instructions on

How to Share or Request for a Prayer in this blog.

.

----------------------------------------------------------------------------------------
Prayer to the Holy Spirit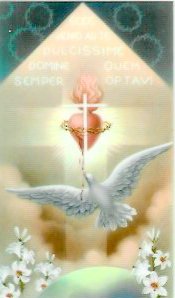 I am going to reveal to you the secret of sanctity and happiness.
Every day for five minutes control your imagination
and close your eyes to all the things of sense
and your ears to all the noises of the world
in order to enter into yourself.
Then in the sanctity of your baptized soul
(which is the temple of the Holy Spirit)
speak to that Divine Spirit.
Saying to Him:
O Holy Spirit, beloved of my soul,...
Tell me what I should do --
I promise to submit myself
to all that You desire of me
You permit to happen to me.
If you do this, your life will flow along happily,
serenely and full of consolation even in the midst of trials.
Grace will be proportioned to the trial,
giving you the strength to carry it and
you will arrive at the gate of Paradise,
laden with merit.
This submission to the Holy Spirit
is the secret of sanctity
- Cardinal Mercier
This indeed is another powerful prayer. Pray to the Holy Spirit for guidance -- in every undertaking. Pray to Him for productive meetings, for wisdom in making decisions, or enlightenment when solving problems (especially tough ones), for help during exams...or for just about anything. Pray to Him for inspiration. Ask Him for ideas. Invoke the power of the Holy Spirit and ask Him to guide you as you perform you tasks, and keep you on the right path...every day.
May God bless you all...Always.
Lito and Ann