Pope Benedict XVI
If you are new to this blog, Welcome! Please take some time to read the previous posts (see left side navigation bar), especially

The Power of Prayer.

We invite you to visit this blog daily and

Say a new Prayer everyday

. We invite you to

Share your favorite prayer

and to send in your

Prayer Requests

or petitions. Encourage your families and friends to do the same. For instructions on

How to Share or Request for a Prayer, please click here

.

----------------------------------------------------------------------------------------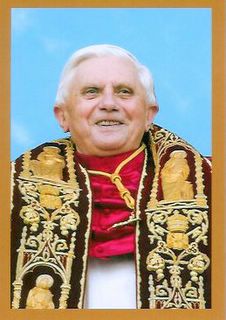 His HolinessPope Benedict XVI
April 19,2005

"And now, at this moment, weak servant of God that I am,
I must assume this enormous task, which truly exceeds all human capacity.
How can I do this? How will I be able to do it?

All of you, my dear friends, have just invoked the entire host of Saints...
In this way, I too can say with renewed conviction:
I am not alone.
I do not have to carry alone what in truth I could never carry alone...
And your prayers, my dear friends, your indulgence,
your love, your faith and your hope
accompany me."*
Please join us in praying for our new Pope:

Father of Providence, look with love
on Benedict XVI our Pope, Your
appointed successor to St. Peter on
whom You built Your Church.
May he be the visible center
and foundation of our
unity in faith and love.

Grant this through Our Lord Jesus
Christ, Your Son who lives and reigns
with You and the Holy Spirit, one God
for ever and ever.
Amen
"At this point, my mind goes back to 22 October 1978,
when Pope John Paul II began his ministry here in Saint Peter's Square.
His words on that occasion constantly echo in my ears:
'Do not be afraid! Open wide the doors for Christ!'
The Pope was also speaking to everyone, especially the young.
Are we not perhaps all afraid in some way?
If we let Christ enter fully into our lives,
if we open ourselves totally to him,
are we not afraid that He might take something away from us?...
And once again the Pope said:
No! If we let Christ into our lives, we lose nothing, nothing,
absolutely nothing of what makes life free, beautiful and great.
No!
Only in this friendship
are the doors of life opened wide.
Only in this friendship is the great potential
of human existence truly revealed.
Only in this friendship do we experience
And so, today, with great strength and great conviction,
on the basis of long personal experience of life,
I say to you, dear young people:
Do not be afraid of Christ!
He takes nothing away, and he gives you everything.

When we give ourselves to him,
we receive a hundredfold in return.
Yes, open, open wide the doors to Christ
– and you will find true life."*

*Excerpts from the Homily of His Holiness Benedict XVI at St. Peter's Square, Sunday, 24 April 2005
Photo courtesy of Catholic News Service/Reuters