Our Father's Love Letter
If you are new to this blog... Welcome! Please take some time to read the previous posts (see left side navigation bar), especially

The Power of Prayer.

We invite you to visit this blog daily and

Say a new Prayer everyday

. We invite you to

Share your favorite prayer

and to send in your

Prayer Requests

or petitions. Encourage your families and friends to do the same. Feel free to leave your comments on each post. Or you can read the instructions on

How to Share or Request for a Prayer in this blog.

.

----------------------------------------------------------------------------------------
This coming Father's Day, as we honor our fathers
and express our love and gratitude to them,
let's not forget Our dear Heavenly Father.

Let's look up, praise and glorify Him…
for He has given us everything (even His Only Son)
to demonstrate His deep and everlasting love for us.

Please click here to VIEW a Video Presentation
of the "Father's Love Letter."

Take a moment to read and feel His words...
And Thank Him for His Love.
Please pass this message on to everyone
whom you believe might be blessed by
Our Father's Love Letter.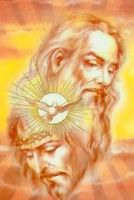 Happy Father's Day to all the Dads!
May God bless you all...
Always,
Lito & Ann